Last update: 2019, Jan. 7

Which programming languages should you learn for marine data science?
First of all, there is no easy answer and no consensus either. Choosing from the broad range of programming languages the right one to invest time and effort learning it the next month or years is not trivial. It all boils down to what you plan to do with it and whether you want an open source program or can afford a license.
If you are a marine scientist that manages rather small datasets or queries data from existing databases using specific web interfaces or user-friendly programs and then runs some statistics on this data for either a report or a peer-reviewed articles, a program specifically developed for data analysis might be the best option for you. On the other hand, if you are a data scientist in a marine research institute, you might also need to build relational databases for storage of institute-specific datasets or develop tools for specific method applications, communicate the work through different channels such as software or coding repositories as well as static and dynamic websites. In that case knowing several additional programming languages such as SQL, HTML, CSS would be necessary. If you work with big datasets such as sequence and high-throughput screening data or digital image data from optical sensor systems you will need a programming languages which performs particularly fast. The key here is to understand your usage requirements in terms of generality vs. specificity, as well as your personal preferred development style of performance vs. productivity.
Some noteworthy aspects when choosing a language are:
Purpose of application: Not every lanugage offers similar functionality for data storage, visualization, and analysis. Also, much of the day-to-day work in data science revolves around collecting and processing raw data for quick visualization and simple analysis. For this, fancy machine learning packages are not necessarily helpful.
Compiled, interpreted, or JIT-compiled language

Compiled = good performance: A so-called compiler translates the language into the machine's native language; this lets the code run fast, particularly if the compiler is effective at optimizing. But the compiling process may take time and the resulting code might not port well across operating systems.
Interpreted = good protability: A so-called interpreter reads and executes the language. The advantage here is generally a better portability across systems and little compiling time. On the other side, intepretated languages are usually slower than equivalent compiled languages.
JIT-compiled = balance between performance and portability: Just-In-Time compiled languages are quickly compiled when programs written in them need to be run, usually with little optimization.

High or low level language

High: Focuses more on concepts that are easy to understand by the human mind (objects, mathematical functions); it is, hence, easier to develop programs based on high-level languages
Low: More similar to the computer's native language, i.e. machine code, and particularly suitable for high performance programs that need access to the hardware. Low level langauges are difficult to port to other platforms and practically never interpreted. However, many languages offer low-level elements.

What type system: type systems refer to the rules that the different types of variables of a language have to follow. Different types refer to the

checking (static vs. dynamic): If a language is statically typed, then the compiler or interpreter does the type checking once before the program runs or is compiled. If the language is dynamically type checked, then the types are checked at run-time. Generally, statically typed languages are considerably more fail-proof than dynamically typed.
strength (strong vs weak)
expression (manifest vs. inferred)
safety

Standardization: Some languages follow a formal standard (e.g. ISO or ANSI), which can be relevant if different programs need to work together.
So let's see what other data scientiests and statisticians think, but bare in mind that some of these languages and tools do not serve the same purpose and are better used complementary.
Common technologies and languages in data science
Amongst the ~16,000 data scientists that participated in the 2017 kaggle survey (see also under MDS) the following data science/analytics tools, technologies, and languages were used most often:
programs_used %>% with(wordcloud(selections, n, scale = c(3, 0.2), max.words = 150, 
    random.order = FALSE, rot.per = 0.35, use.r.layout = TRUE, colors = brewer.pal(6, 
        "Blues")[c(4, 5, 6, 7, 8, 9)]))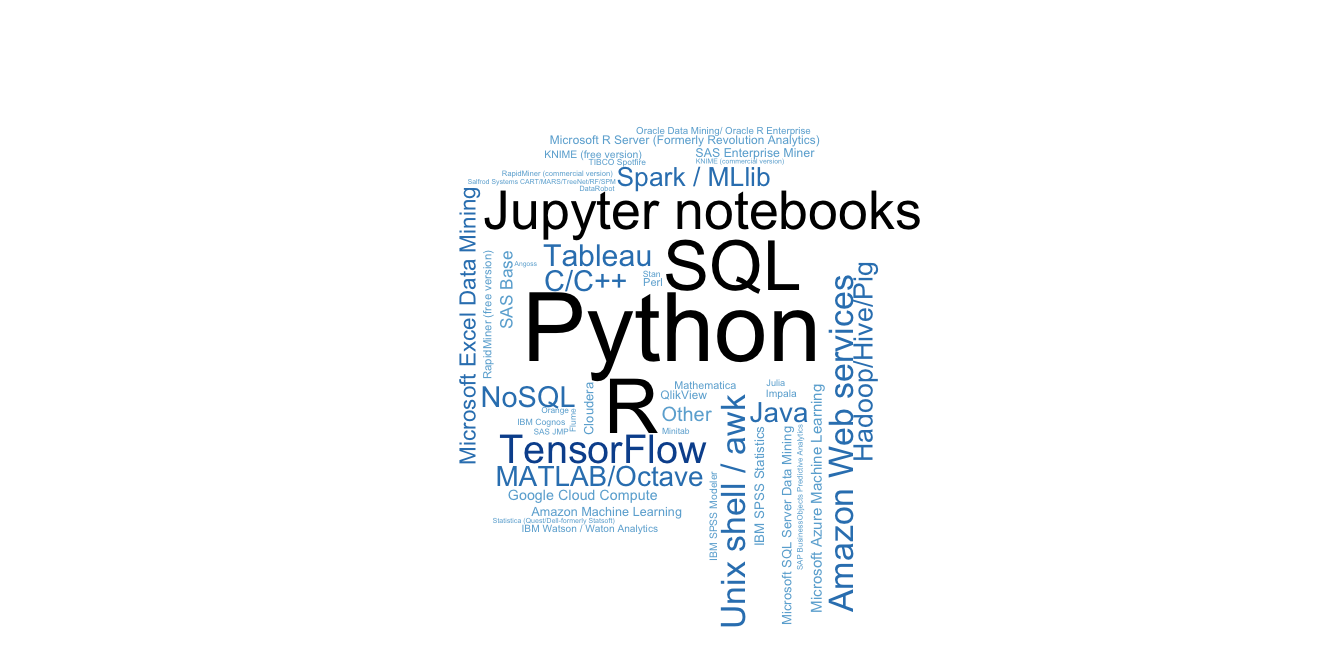 p_acad <- programs_acad %>% ggplot(aes(x = selections, y = percent, fill = selections)) + 
    geom_col() + guides(fill = "none") + colormap::scale_fill_colormap(discrete = T, 
    colormap = colormaps$salinity, reverse = T) + theme_classic() + ylim(0, 
    100) + coord_flip() + ylab("Percent") + xlab("")

p_stat <- programs_stat %>% ggplot(aes(x = selections, y = percent, fill = selections)) + 
    geom_col() + guides(fill = "none") + colormap::scale_fill_colormap(discrete = T, 
    colormap = colormaps$salinity, reverse = T) + theme_classic() + ylim(0, 
    100) + ylab("") + coord_flip() + ylab("Percent") + xlab("")

gridExtra::grid.arrange(p_acad, p_stat, ncol = 2)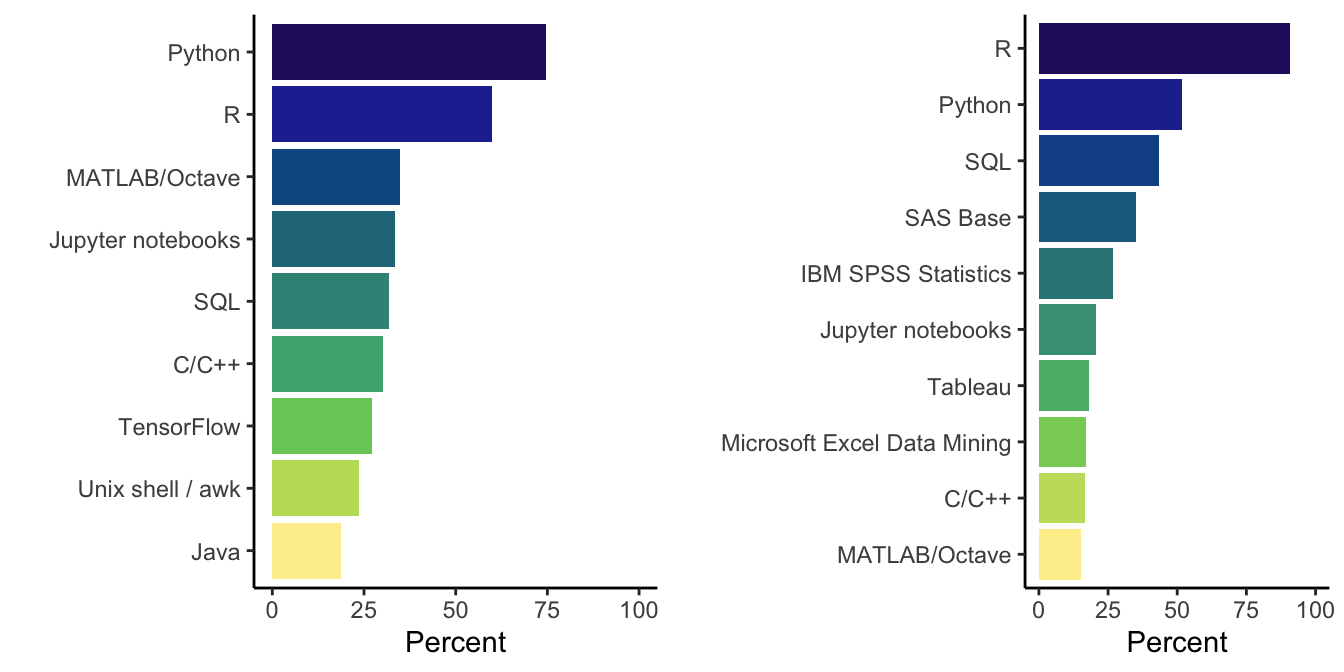 Recommended programming language
Respondents were also asked what programming language they would recommend a new data scientist to learn first:
recom_lang %>% ggplot(aes(x = selections, y = percent, fill = selections)) + 
    geom_col() + guides(fill = "none") + scale_fill_viridis_d(direction = 1, 
    option = "inferno") + theme_classic() + ylab("Percent") + xlab("Recommended Language")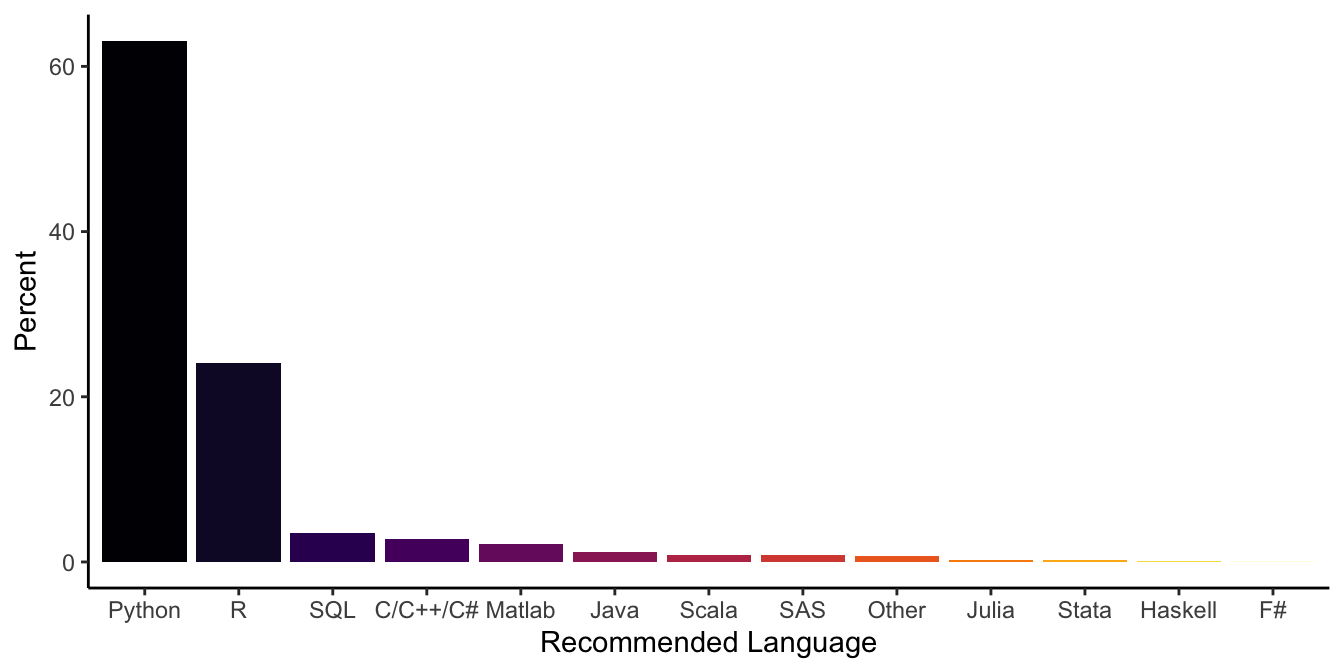 In marine sciences, the most common programming language is probably R, as it is most rich in packages and libraries related to methods applied in this field, closely followed by Matlab. However, if you plan to dive into the world of numerical modelling or you will work with big datasets such as genomics you are most likely better off with Python. I personally love R and have worked with it for many years, though at the time of my PhD it wasn't as easy to learn - without the many online tutorials and huge archives of questions and solutions at stack overflow that nowadays exist. For my own data storage I use relational databases, so SQL is my language of choice. And to communicate results and for teaching data science I also started to learn HTML and CSS. While the integration of RMarkdown into RStudio is great for producing output as PDF, presentation, HTML page or even entire website you need to learn a bit of HTML and CSS and potentially JavaScript, Bootstrap, etc. if you want to add your personal touch to it.

Overview of programming languages and applications
Here is a short summary of different programming languages and data analysis software that are more or less common in marine data science, their pros and cons and links where you can learn more about it. Since I'm fully into R I also provide you later with a detailed - but not complete- list of R packages that are useful for general or marine- specific tasks.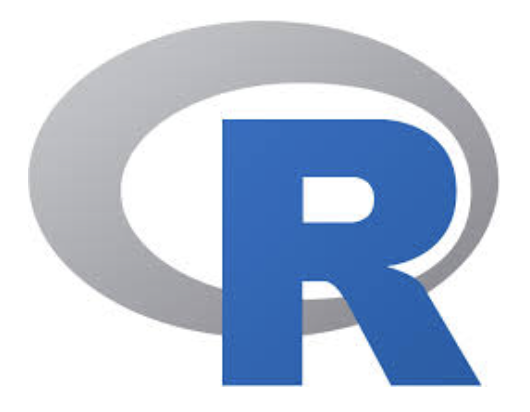 R packages
The R package system has grown so much and fast (> 10,000 package in 2018) that it is shear impossible to list all the useful package a marine (data) scientist would like to use at some point. So please use the following list rather as a starting point. You can find also great overviews of useful packages at the CRAN task views for specific topics:
To stay up-to-date check out also R-bloggers, which is a blog with news on latest advances, package presentations and online tutorials.